Steinhaus, Steindorf at Lake Ossiach 1986–2008 (Construction time)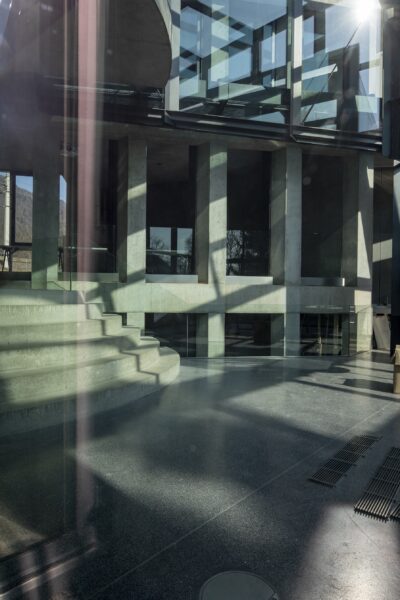 GÜNTHER DOMENIG
© Photo: Gerhard Maurer, 2022
Immediately after the construction of the Z‑Sparkasse, Günther Domenig began his first sketches of ideas for a house on the land he had inherited from his grandmother on Lake Ossiach. The building develops progressively from the lake side, beginning with a jetty that turns into a ramp along a path, which in turn marks the beginning of the building.
The change in Domenig's formal language can also be read along this path: while the jetty is still organically based on the motif of the hand and reminiscent of the Z‑Sparkasse, the house itself is a geometric figure, although – and this is the constant in Domenig's architecture – the basic spatial concept of the buildings is the same. Both stand for the attempt to create a dynamic spatial structure that allows unlimited movement through these bodies in the sense of Friedrich Kiesler's ​"Endless House".
The Steinhaus, or Stone House, represents a semantic transformation (as the name itself suggests): it is the translation of natural stone formations and an anonymous agricultural building into an expressive, autonomous structure.
Equally, however, the building is also the transformation of a landscape motif: the rugged mountain formations of the Mölltal valley, where Domenig grew up, inscribe themselves on the landscape around Lake Ossiach.
Put simply, the Steinhaus is a five-storey building with over 700 m² of floor space, made up of numerous concrete, glass and steel blocks wedged and inserted into one another in an irregular interplay.
As if there's been a rockfall, the blocks appear to lie on top of and above each other, creating a seemingly random spatial configuration.
On closer inspection, however, an order begins to emerge: the Steinhaus consists of two wedge-shaped components separated by a deep, narrow ​"gorge" into an eastern and a western part. The eastern part is defined by the ​"East Stone" made of steel and stainless steel and the north-facing ​"Arse with Piggyback", two concrete blocks hanging one above the other.
The western part consists of a body topped in the north by ​"floating stones" – volumes clad in sheet steel that open up like a balcony towards the lake.
In the middle of the ​"gorge" in the second basement and thus at the centre of the Steinhaus is the ​"spiral room". This is a circular space below ground water level, which is accessed via a spiral staircase.
Here, a cylindrical well made of glass defines the centre of the building. As if the water had polished the hard edges of the concrete blocks, this is in fact the only space in the stone house determined by curves. Here, where the water stands as if in a shrine for the nucleus of all life, the sacred character of the building is perhaps at its most evident.